Sunday's matchup between the two organizations is our first look as to what's potentially to come for the regular season. Will Dallas be able to make up any ground in the NFC East this season? Can the Dolphins make the playoffs for the first time since 2008? We won't know those answers for a while, but a glimpse in the Hall of Fame Game may start to sway you in one direction or another.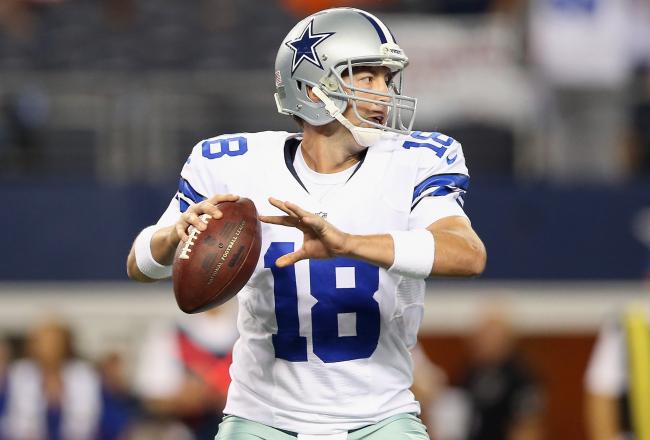 The Cowboys will be watching closely to see how their backup quarterback plays against the Dolphins in the Hall of Fame Game. The spotlight will be on Kyle Orton, as Tony Romo isn't expected to take the field, according to Ed Werder of ESPN. This is a prime opportunity for Orton to showcase his skills.
Orton should be able to shine when he takes the field against Miami, as the Dolphins were strong against the passing game a year ago. In 2012, the Dolphins gave up the sixth-most yards through the air, per ESPN. It's tried to improve its secondary during the offseason, and it'll be interesting to see how Orton does against Miami.
If you are not too familiar with the Miami Dolphins and want to keep your eye on a few younger players, well then I got you covered.
Let's take a closer look at what the Dolphins have to offer.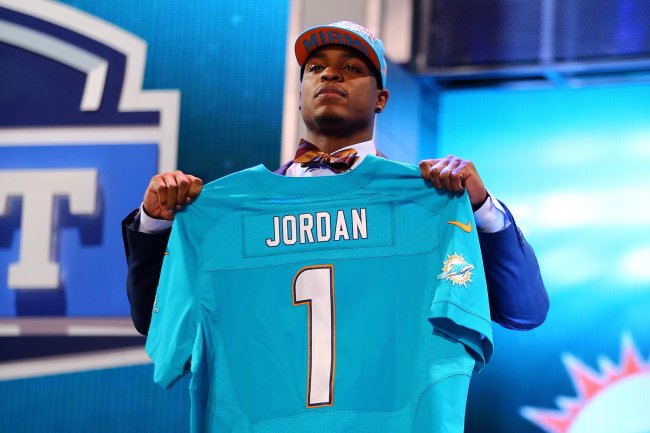 Reggie Bush decided to walk in free agency and signed with the Detroit Lions. With Bush' departure, it opened the door for former Miami Hurricane Lamar Miller. As a fan of the Hurricanes, I can tell you firsthand that this kid has the potential to become a dangerous running back.
He's fast and shifty, but Miller is fundamentally sound. His ball protection and blocking ability are very good, and he can catch the ball out of the backfield. The Dolphins didn't give him a lot of carries and opportunities in 2012. After a year of learning on the job, he could be ready to take over the starting role.
Miami may have found a serious gem with Miller. He's a home run threat with the ability to become a special playmaker. With another offseason to work some things out, the former fourth-round pick is one of the running backs who could break out in 2013.
Martin's fall in the 2012 NFL Draft was interesting because he was one of the nation's best offensive lineman that year. The Dolphins scooped him up in the second round and now that decision may look like a wise move because Jake Long is now in St. Louis and they now have a young and talented player waiting in the wings to take over.
It hasn't been a good start for Martin. He's making the switch from right tackle back to left tackle. In college he protected Andrew Luck on the blind side, but the Dolphins had him starting the majority of his rookie season on the right side. It's extremely difficult for a young player to flip-flop positions like that and it may also have stunted his development. The organization is far from giving up on him, which is very smart considering he's only in his second season.
From my view, Martin's biggest issue of concern is his strength. He's more of a finesse tackle that has very good athleticism. Once he builds up strength and power, then Martin could become a very good player for the Dolphins. It will be interesting to see if Monte Kiffin attacks him, because as an opposing defensive coordinator I know I would go after him. It's only the pre-season, but Kiffin should take advantage of an obvious weakness on the offensive line.
Jeff Ireland took a risk on draft day moving up for the talented pass rusher. Many including myself, thought Ireland had made the trade for Oklahoma offensive tackle Lane Johnson. Honestly, both players are athletic freaks and have unlimited potential. Miami really couldn't screw this pick up because they were either going to get a stud pass rusher or a franchise left tackle. You can go either way and still come out with a player who is going to help your franchise for a very long time.
Jordan is off to a good start as he has dominated the Miami offensive line in practices. This was one of my highest rated players, ranking in as the second best player available in the 2013 NFL Draft. Oregon didn't highlight his pass rushing potential nearly enough and with time, Jordan could become one of the most dangerous rushers in the game.
Miami isn't running a 3-4 defense anymore, which is a shame because Jordan's skill set translate nicely to standing up at the line of scrimmage. Even though Dolphins defensive coordinator Kevin Coyle has more of a natural 4-3 background, he will probably mix in some 3-4 hybrid looks to stand Jordan up and allow him a free shot to use his speed as a pass rusher.
Dion will need to become better suited to stop the run and add more weight to his frame. Until he does so, teams like the Cowboys should play against his weakness and go at him with a power running game. Regardless he will be one of the most exciting players to take the field this weekend. If anyone is the next Aldon Smith, this kid could be it.
Let's now take a look at players from the 2011, 2012 and 2013 Dallas Cowboys Draft and analyze their progress, where they are at and how they look as they try to audition for their NFL lives before the 2013 season starts (and it may not be to make the team, but in order to make an impact during the season).
JJ Wilcox, SS Georgia Southern 2013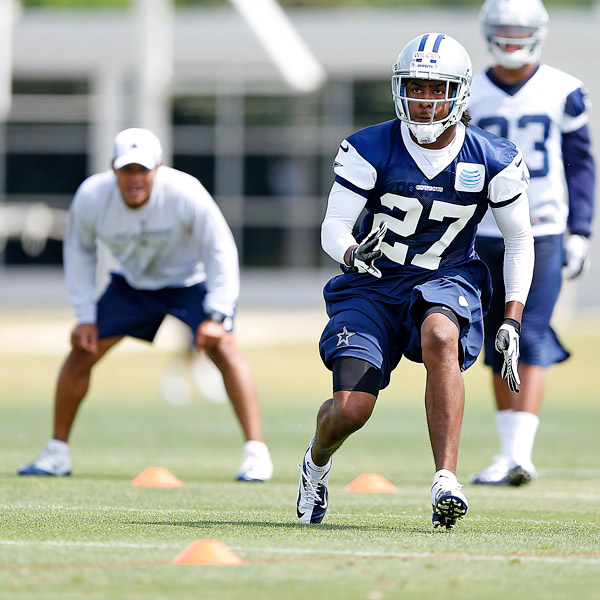 I loved what Wilcox brought to the table as a long term prospect at the safety position, but was a little surprised when he was taken in round three by the Cowboys, a team that needed more immediate help at the position.
According to Dave Halprin of BloggingtheBoys.com
"He got some first-team reps at safety when Barry Church was temporarily sidelined from a close encounter with a Jolly Rancher. He's battling Matt Johnson for the primary backup role. Could he make the leap all the way to starter before too long? That may be a little much to ask, but so far, he seems to top expectations at every turn."
Wilcox has made big strides already in camp, but what will he do on the field once live bullets are flying?  Can he make an impact?
James Hanna, TE Oklahoma 2012
Hanna was the athletic freak of the '12 draft and even though he was taken late in the draft, there was a lot of people who had high hopes for him.
Now he is battling hamstring issues, and the Cowboys went ahead and took Gavin Escobar in round two of the '13 draft, and now there are questions on if he can even be the third tight end on the roster.
Hanna's ability flashed at times in his rookie season, but he has to get on the field, perform, and win that backup tight end position from Escobar and free agent tight end Dante Rosario.
Kyle Wilber, DE Wake Forest 2012
Wilber's ability to get after the quarterback is intriguing, especially as he gets limited reps in the regular season.
What he does in the preseason will have a big impact on his future going forward, as the Anthony Spencer saga continues to unfold.
Let's hope Wilber can stay healthy and be productive.
Now, let's turn our attention to the Rookie class.
Joseph Randle (Dallas Cowboys)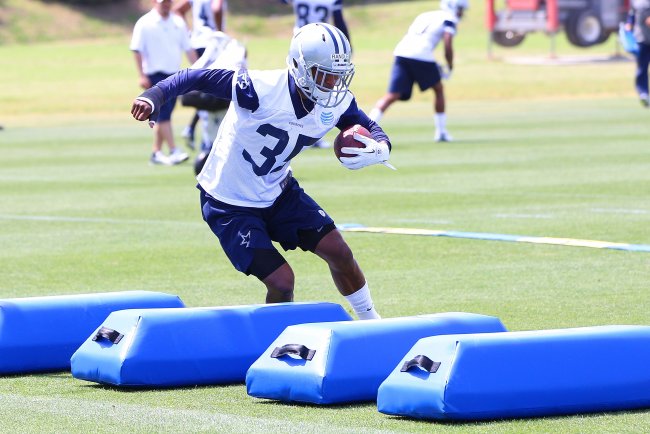 Rick Yeatts/Getty Images
When the Cowboys drafted Randle in the fifth round, it seemed like great value. A very productive dual-threat running back at Oklahoma State, he had the look of a player capable of making his presence felt early in his rookie campaign.
Now, he'll need a strong preseason to make that reality after struggling to separate himself from a deep backfield. Lance Dunbar and Phillip Tanner are making strong pushes to serve as the chief backup to DeMarco Murray.
Randle has the talent to beat out both of those players. But if he doesn't show it starting with the Hall of Fame Game, he won't start at No. 2 on the depth chart. So the pressure is already on even though it's just the start of a long exhibition schedule.
At the end of this week, day and game the single handed most important aspect of this game will be the GREAT Larry Allen being inducted into the Pro Football Hall of Fame. Way to go big fella'!